Gabby MendezResort Manager
Gabby has two dogs at home, a Pitbull Australian Shepherd mix named Chunky Monkey, and Dawson a Pitbull boxer mix!
Read More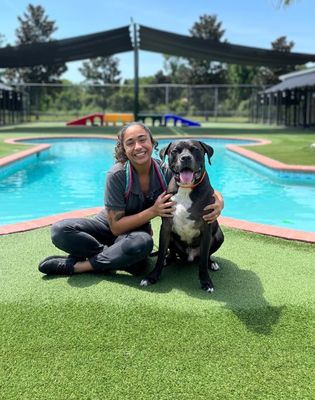 Gabby MendezResort Manager
Gabby was born in Minnesota, and left when she was only two years old. She has been living in Jacksonville ever since. She graduated from Creekside High School in 2019 and has an associate degree from Florida State College of Jacksonville. Outside of school and work you'll likely find Gabby at the zoo admiring all the animals or exploring nature. She has a passion for dogs and loves them all no matter the size, breed, or temperament. She grew up in a household with a large pack, and truly believes a house is not a home without a dog! She moved out at the age of 18 and today her new pack consists of her fiancé Alex, their Pitbull Australian Shepherd mix Chunky Monkey, and Dawson a Pitbull boxer mix! Chunky was born straight into Gabby's arms and they have been inseparable since. Dawson was a surrender that she met through Pet Paradise. Gabby started as a Play-Time Coordinator in August 2019 and went into the supervisor role at Bartram, quickly advanced into becoming an Assistant Manager at WGV, and now is the Resort manager here at Saint Augustine! It is said that if you love what you do, you never work a day in your life, that's how she feels every day being surrounded by happy and healthy fur babies!